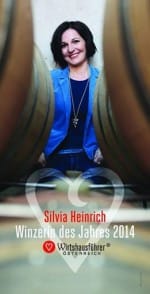 Winemaker of the year 2014
Mankind seldom chooses the most direct road in order to get to where he or she wishes to proceed; short-cuts, detours, and retreaded routes often carve the path towards the goal. This was how I arrived to my goal, and looking back, my journey was my destination.
Decisions and choices made have taken me from the family wine estate, where I grew up, to many different places, yet all of these stages in life have given me the confidence to make the right decision. The choice, to make wine my life.
In 2002, I began working full-time at the wine estate, that my parents had built up, and left my job in Vienna. I had always worked part-time at home, and continued to run the family business with my father Johann. In 2010, ownership of the wine estate was officially transferred to me. I always looked beyond the horizon, and worked at vineyards in Germany and Italy, as well as venturing on wine trips around the world, giving me new insights and impressions.
Working with nature demands patience and a calm composure, perhaps with a little humility. "I see the vineyards as my children, and just like bringing up children, I want to support them, accompany them and do my utmost best for them, and allow them to develop themselves and their characters, as well as show their full potential."
My family offer me tremendous support, so that the process of winemaking reaches new heights. My father, with his experience, calm nature and passion for wine, and my mother's high spirits and enthusiasm. I thank my children for their lively outlook on life.
I'm now doing what is truly me! I want people to enjoy my wines, so I make use of the wonderful treasure that grows on my doorstep. What is better than to completely focus on red wine? What is better than to make Blaufränkisch the focus? My wines reflect the the region, and are a piece of Blaufränkischland.