SILVIA HEINRICH
Between Viticulture, Family Happiness and Culinary Delight
"My job is to move on. To not stop. To try out new things and constantly improve our craft so that we can continue to offer the best wines in the future. That is my quality standard and also the one of my customers."
My parents did great things. They took their strength from their passion and their ambition from success. I am following in the footsteps of this tradition. I'm very proud of that too. My job is to move on. To no stop. To try out new things and constantly improve our craft so that we can continue to offer the best wines in the future. That is my quality standard and also the one of my customers.
It is not always the straight paths that a person takes. Sometimes it takes a few detours, branches and loops until you finally reach your destination. So it was with me. And looking back, the journey was the goal. My ten years at Reuters and in the news world were necessary to make the right decision. The decision to make wine my life. Since 2002 I have continued what my parents built. I have been managing our winery in Deutschkreutz since 2010. Thinking outside the box has always been important to me. Internships in the Palatinate, in Piedmont, and in New Zealand as well as wine trips around the globe with my winemaking friends of the group "11 women and their wines" gave me new insights and understandings.
Working with nature requires patience, serenity and always a bit of humility. Vineyards are like children to me. And like children, I want to accompany and support them and do my best for them. This is the only way they can flourish, develop their personality and reach their full potential.
My family supports me significantly in ensuring that the process of wine-making succeeds again and again. My father with his experience, his calm and uncompromising love for wine. My mother with her energy and joy in being active. I thank my children Julia and Anna because they show me every day what really matters.
I have arrived and am doing what makes me myself. With my wines I want to share this with others. In doing so, I rely on the treasures that we have on our doorstep. So what could be more natural than relying entirely on red wine? What could be more obvious than making the Blaufränkisch the centerpiece? My wines transport their region, the Blaufränkischland.
Go to school again? If I had the time, I would start again with 40+. I am pleased and honored to be a member of the advisory board of "Burgenland Tourism" in Eisenstadt since 2018 and of the "Department of Economics of the University of Applied Sciences Burgenland" since the end of 2020 and to contribute, side by side with to greats from education, business and politics, with my knowledge and practical experience in the field of wine marketing.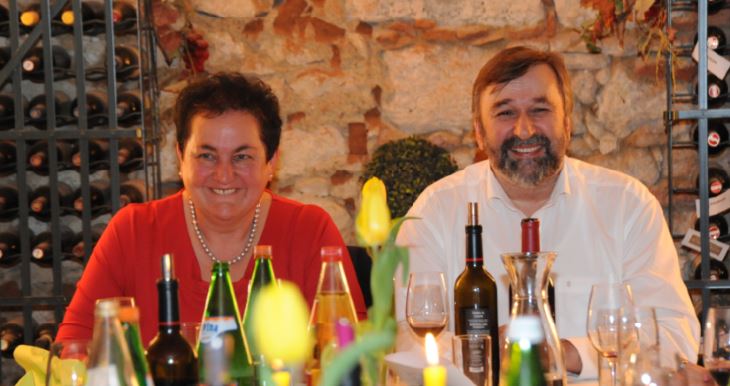 My parents Gerti & Johann Heinrich are already in their well-deserved retirement, but they are always there when we need them. Mama Gerti is the good soul in the house and is always there for her grandchildren. Papa Johann knows the winery and the vineyards like the back of his hand. The vineyards are his second living room. We can count on his valuable experience and we are grateful for that! But when the grandchildren Julia, Jakob and Anna call, then both leave work to be work. They already know what really matters in life